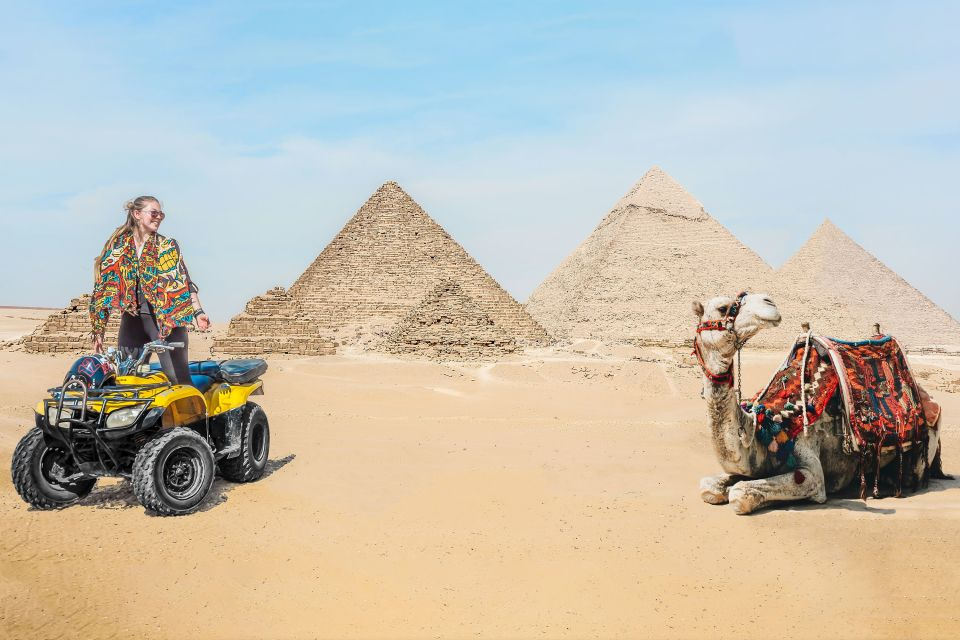 Get ready for an exhilarating Pyramids adventure in Cairo that combines the awe-inspiring ancient wonders with the thrill of a quad bike ride and an optional camel ride. Brace yourself for an unforgettable experience that will take you back in time and immerse you in the rich history and natural beauty of Egypt.
Overview:
This tour combines the excitement of a quad bike ride with the wonder of the Pyramids of Giza, for a truly unforgettable experience. With the option to add on a camel ride, you can immerse yourself in the traditional mode of transportation in Egypt, and see the sights from a different perspective.
Highlights:
Experience the Pyramids of Giza from a whole new perspective on a quad bike adventure
Add an optional camel ride for an even more authentic experience
Explore the surrounding desert and take in the stunning views of the Egyptian landscape
Enjoy round-trip transfers from your hotel, as well as all necessary equipment and experienced guides
Itinerary:
Pick up from your hotel in Cairo or Giza
Transfer to the Pyramids of Giza
Briefing on safety and operation of quad bike
Start the quad bike adventure in the desert around the Pyramids
Optional add-on: camel ride around the Pyramids
End of the quad bike tour
Transfer back to your hotel
Inclusions:
Round-trip transfers from your hotel in Cairo or Giza
Quad bike rental and safety equipment
Experienced guides
Optional add-on: camel ride
Exclusions:
Entrance fees to the Pyramids of Giza
Food and drinks
Gratuities
Pricing:
Quad Bike Adventure Only: $60 USD per person
Quad Bike Adventure + Camel Ride: $80 USD per person
Tips and Advice for Travelers:
Wear comfortable clothing that you don't mind getting dusty or dirty
Bring sunscreen, sunglasses, and a hat to protect yourself from the sun
Be prepared for a bumpy ride on the quad bike, and listen carefully to the safety briefing before starting
If you choose to add on the camel ride, be prepared for a slow and leisurely pace
Trip Notes:
This tour is suitable for ages 16 and up
Quad bikes are shared between two people, with one person driving and the other riding as a passenger
Camel rides are available for solo riders or couples
The total duration of the tour is approximately 2 hours, including transfers
FAQs:
Q: Do I need any prior experience to ride a quad bike? A: No, prior experience is not necessary. Our experienced guides will provide a safety briefing and instruction on how to operate the quad bike.
Q: Is the camel ride included in the tour price? A: No, the camel ride is an optional add-on that can be included for an additional fee.
Q: Do I need to bring any special equipment for the tour? A: No, all necessary equipment will be provided, including helmets and goggles.
Q: Are there any age restrictions for the tour? A: Yes, this tour is only suitable for ages 16 and up.