Embark on a captivating journey through time with our 12-day Classic Egypt Treasures tour. Discover the iconic landmarks of ancient Egypt, immerse yourself in the rich history and culture, and witness the magnificent treasures that have fascinated explorers for centuries. From the Pyramids of Giza to the temples of Luxor and the tranquil waters of the Nile, this tour offers an unforgettable experience. Book now and unlock the secrets of Egypt's fascinating past!
Overview:
Join us on an extraordinary adventure through the land of pharaohs and explore the classic treasures of Egypt. This 12-day tour will take you on a captivating journey, showcasing the most iconic sites and hidden gems that define Egypt's ancient civilization. From the awe-inspiring Pyramids of Giza to the spectacular temples of Luxor and the tranquil Nile River, you will witness the grandeur and splendor of a bygone era. Immerse yourself in the vibrant history, immerse yourself in the vibrant history, and unravel the mysteries of this extraordinary land.
Highlights:
Marvel at the magnificent Pyramids of Giza, including the Great Pyramid of Khufu.
Explore the ancient temples of Luxor, including Karnak Temple and Luxor Temple.
Cruise along the timeless waters of the Nile River on a luxurious 5-star Nile cruise ship.
Discover the Valley of the Kings, home to the tombs of pharaohs and ancient treasures.
Uncover the fascinating history of Abu Simbel Temples, a UNESCO World Heritage site.
Visit the iconic Egyptian Museum in Cairo and behold the treasures of Tutankhamun.
Experience the vibrant local culture in bustling bazaars and traditional villages.
Enjoy personalized service and expert guidance from our knowledgeable Egyptologist guides.
Advantages:
Comprehensive Itinerary: Our meticulously crafted itinerary covers all the must-visit sites and ensures a well-rounded experience of Egypt's ancient wonders.
Expert Guidance: Benefit from the expertise of our Egyptologist guides who will provide insightful commentary and enhance your understanding of Egypt's history and culture.
Luxurious Accommodation: Enjoy comfortable stays in handpicked hotels and a 5-star Nile cruise ship, ensuring a relaxing and rejuvenating experience throughout your journey.
Hassle-Free Travel: We take care of all the logistics, including domestic flights, airport transfers, and transportation, allowing you to focus on immersing yourself in the incredible sights and experiences.
Customization Options: Tailor the tour to suit your preferences with our customizable options, including the ability to change the pickup time to accommodate your schedule.
Itinerary:
Day 1: Arrival in Cairo
Welcome to Cairo! Our representative will greet you at the airport and assist with the hotel transfer.
Spend the rest of the day at leisure, exploring the vibrant city or relaxing at your hotel.
Overnight stay in Cairo.
Day 2: Pyramids of Giza & Egyptian Museum
Begin your day with a visit to the iconic Pyramids of Giza, including the Great Pyramid of Khufu, the Pyramid of Khafre, and the Pyramid of Menkaure.
Marvel at the enigmatic Sphinx, guarding the ancient burial complex.
Continue to the Egyptian Museum in Cairo, home to an impressive collection of artifacts, including the treasures of Tutankhamun.
Overnight stay in Cairo.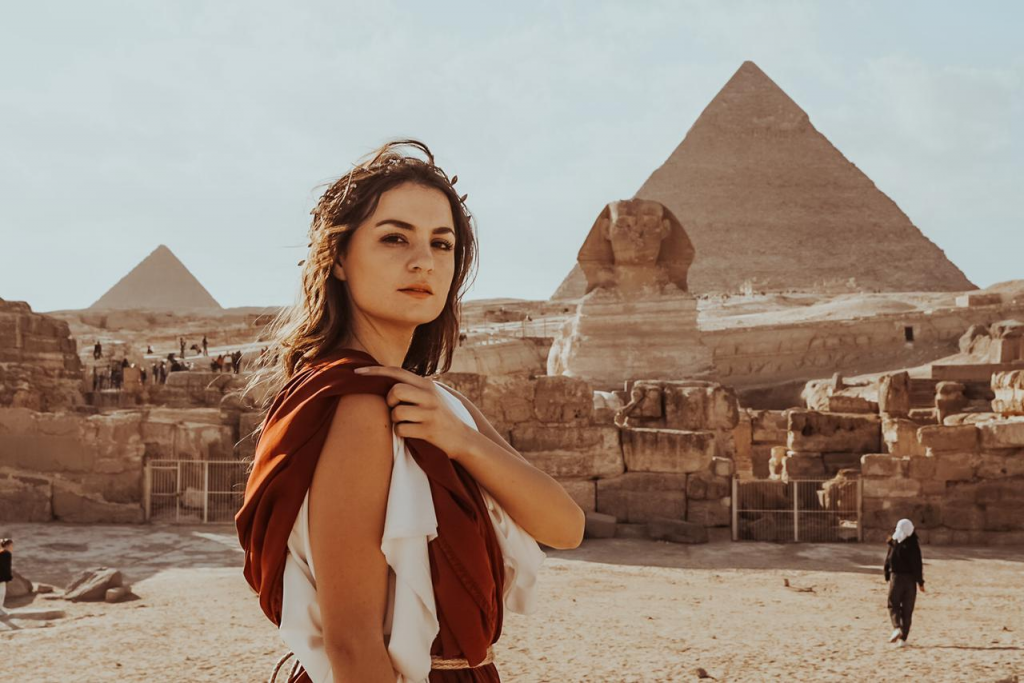 Day 3: Luxor East Bank & Nile Cruise Embarkation
Fly to Luxor and embark on a luxurious Nile cruise ship.
Visit the magnificent Karnak Temple complex, dedicated to the god Amun.
Explore Luxor Temple, an ancient temple complex located in the heart of the city.
Enjoy onboard dinner and entertainment.
Overnight stay on the Nile cruise.
Day 4: West Bank of Luxor & Sailing to Edfu
Discover the West Bank of Luxor, home to the Valley of the Kings, where pharaohs were laid to rest.
Visit the Temple of Hatshepsut, a stunning mortuary temple dedicated to the only female pharaoh of ancient Egypt.
Admire the Colossi of Memnon, two massive stone statues representing Amenhotep III.
Sail towards Edfu.
Overnight stay on the Nile cruise.
Day 5: Edfu & Kom Ombo
Explore the Temple of Edfu, dedicated to the falcon-headed god Horus.
Sail to Kom Ombo and visit the unique Kom Ombo Temple, dedicated to both the crocodile god Sobek and the falcon god Horus.
Continue sailing towards Aswan.
Overnight stay on the Nile cruise.
Day 6: Abu Simbel Temples & Philae Temple
Take an early morning excursion to the awe-inspiring Abu Simbel Temples, a UNESCO World Heritage site.
Marvel at the colossal statues and intricate carvings of Ramses II and his wife Nefertari.
Return to Aswan and visit the beautiful Philae Temple, dedicated to the goddess Isis.
Enjoy a leisurely boat ride on the Nile River.
Overnight stay on the Nile cruise.
Day 7: Aswan & Flight to Cairo
Explore the Aswan High Dam, a marvel of modern engineering.
Visit the Unfinished Obelisk, an ancient monument that offers insights into the techniques of stone carving.
Optional: Take a felucca boat ride around the scenic islands of Aswan.
Fly back to Cairo.
Overnight stay in Cairo.
Day 8: Alexandria Excursion
Embark on a day trip to Alexandria, the historic coastal city.
Visit the famous Catacombs of Kom El Shoqafa, the largest Roman burial site in Egypt.
Explore the Qaitbay Citadel, a 15th-century fortress located on the Mediterranean coastline.
Discover the stunning Montaza Palace and its beautiful gardens.
Return to Cairo.
Overnight stay in Cairo.
Day 9: Old Cairo & Islamic Cairo
Explore the ancient Coptic Quarter in Old Cairo, including the Hanging Church (Saint Virgin Mary's Coptic Orthodox Church) and the Coptic Museum.
Visit the historic Saladin Citadel of Cairo, home to the impressive Mosque of Muhammad Ali.
Stroll through the bustling Khan El Khalili Bazaar, known for its vibrant atmosphere and traditional souvenirs.
Overnight stay in Cairo.
Day 10: Free Day in Cairo
Enjoy a free day in Cairo to relax, explore the city at your own pace, or take optional excursions.
Overnight stay in Cairo.
Day 11: Departure
Check out from the hotel and transfer to the airport for your departure flight.
Inclusions:
Accommodation: 4-star or 5-star hotels (11 nights) and 5-star Nile cruise (4 nights).
Domestic flights within Egypt.
Airport transfers.
Transportation in a modern air-conditioned vehicle.
English-speaking Egyptologist guide.
Sightseeing tours and entrance fees as mentioned in the itinerary.
Meals as indicated in the itinerary (daily breakfast, 7 lunches, and 7 dinners).
Exclusions:
International flights.
Visa fees.
Optional activities and personal expenses.
Gratuities for guides, drivers, and hotel staff.
Pricing Information:
Accommodation Plan (A) 5 stars:
Cairo:Le Méridien – Steigenberger Pyramids- Ramses Hilton- Helnan – Barcelo Pyramids- Pyramisa
Luxor: Steigenberger Nile.
Nile cruises: MS Emilio, MS Radamis, MS Princess, MS Sara
| | 3 Stars | 4 Stars | 5 Stars |
| --- | --- | --- | --- |
| Price per person in DBL or TRPL Room | 2040 $ | 2070 $ | 2260 $ |
| Solo traveler | 2940 $ | 2985 $ | 3070 $ |
| Christmas & Easter – DBL or TRPL Room | 2485 $ | 2520 $ | 2770 $ |
| Christmas & Easter – Solo Traveler | 3485 $ | 3535 $ | 3625 $ |
Accommodation Plan (B) Luxury:
Cairo: Kempinski – Fairmont Cairo – Hilton Curnrad -Marriott Sheraton- Hilton Golf pyramids
Luxor: Hilton – Sonesta St. George.
Nile Cruises: MS Amwaj Nile Cruise, MS Nile Premium, MS Bule shadow, MS Jaz Jubilee, Crown Emperor, Steigenberger.
| | All year round | Christmas and Easter |
| --- | --- | --- |
| Price per person in dbl room | 3340 $ | 4070 $ |
| Solo traveller | 4530 $ | 5030 $ |
Ultimate Luxury:
Cairo: Four Seasons -Marriott Mena House – Kempinski Nile Deluxe – Fairmont Nile Premium – Hyatt Regency
Luxor: Sofitel Winter Palace.
Nile cruises: Sanctuary Sun Boat – Oberoi Cruises – Movenpick Royal Cruises – Sonesta Cruises – Le Fayan – Ms Farah -MS Acamar
| | All year round | Christmas and Easter |
| --- | --- | --- |
| Price per person in dbl room | 4990 $ | 5540 $ |
| Solo traveller | 6600 $ | 7200 $ |
Tips and Advice for Travelers:
Dress Code: Respect the local customs and dress modestly, especially when visiting religious sites.
Sun Protection: Carry sunscreen, a hat, and sunglasses to protect yourself from the strong Egyptian sun.
Currency: Egyptian Pound (EGP) is the local currency. ATMs are widely available, and credit cards are accepted in most tourist areas.
Hydration: Stay hydrated by drinking plenty of bottled water, especially during tours and outdoor activities.
Safety: Follow the instructions of your guide and adhere to safety guidelines, particularly during archaeological site visits.
Trip Notes:
The itinerary is subject to change based on local conditions or unforeseen circumstances.
Comfortable walking shoes are recommended as some sites require walking on uneven terrain.
Please inform us in advance of any dietary restrictions or special requirements.
FAQs:
Q: Can I customize this tour package? A: Yes, we offer customizations to suit the needs of our travelers, including changing the pickup time. Contact us for more information.
Q: Is this tour suitable for children? A: Yes, this tour is suitable for children. However, please note that some sites may not be suitable for very young children or individuals with mobility issues.
Q: What is the group size for this tour? A: The group size may vary. We aim to provide a personalized and intimate experience with small group sizes.