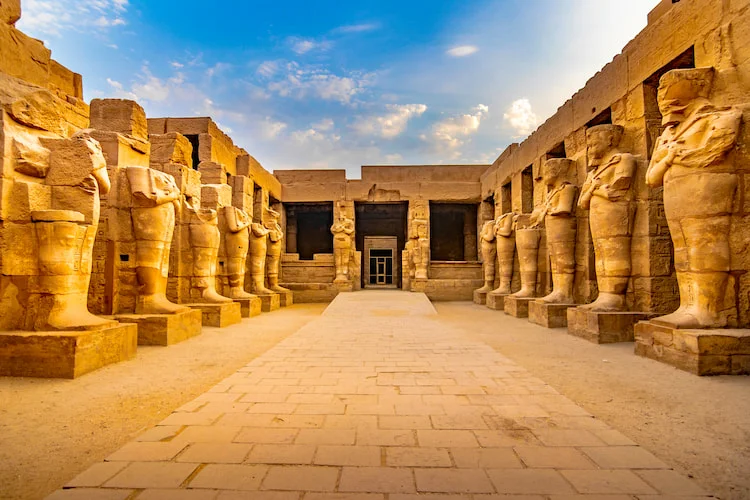 Discover the magic of Egypt with our 7-day Cairo & Nile Cruise tour package. Immerse yourself in the timeless beauty of Cairo's iconic landmarks, including the Pyramids of Giza and the Egyptian Museum. Then, embark on a luxurious Nile cruise, sailing through history and exploring ancient temples in Luxor, Aswan, and beyond. With Brilliant Egypt Tours, your dream of experiencing Egypt's ancient treasures becomes a reality. Book now for instant confirmation and embark on an unforgettable adventure!
Overview:
Embark on an extraordinary journey through Egypt's rich history and captivating landscapes with our comprehensive 7-day Cairo & Nile Cruise tour package. Begin your adventure in Cairo, where you'll marvel at the awe-inspiring Pyramids of Giza and explore the fascinating artifacts at the Egyptian Museum. Then, set sail on a luxurious Nile cruise, visiting iconic sites like the Valley of the Kings, Karnak Temple, and the majestic Abu Simbel Temples. With expert guides, comfortable accommodations, and seamless arrangements, Brilliant Egypt Tours ensures an unforgettable and hassle-free experience.
Highlights:
Uncover the mysteries of the Pyramids of Giza, including the Great Pyramid of Khufu and the enigmatic Sphinx.
Explore the vast collection of artifacts at the Egyptian Museum, including the treasures of Tutankhamun.
Embark on a luxurious Nile cruise and enjoy breathtaking views of the Nile River.
Visit the impressive Luxor Temple and Karnak Temple, witnessing the grandeur of ancient Egyptian architecture.
Discover the Valley of the Kings, where you can explore the intricately decorated tombs of pharaohs.
Experience the serenity of the Philae Temple in Aswan and the magnificent Abu Simbel Temples.
Enjoy onboard entertainment and cultural performances during the Nile cruise.
Savor delicious meals, blending international and Egyptian cuisine, throughout the tour.
Advantages:
Thoughtfully designed itinerary combining the highlights of Cairo and a luxurious Nile cruise.
Small group tour ensuring personalized attention and an immersive travel experience.
Knowledgeable Egyptologist guides providing in-depth insights into Egypt's ancient history and culture.
Comfortable accommodations in well-selected hotels and a luxurious Nile cruise ship.
Hassle-free arrangements, including airport transfers and transportation.
Flexibility to customize the tour to meet individual preferences and needs.
Itinerary:
Day 1: Arrival in Cairo
Welcome to Cairo! Upon arrival at Cairo International Airport, our representative will meet you and assist with the immigration process.
Transfer to your hotel and check-in.
Enjoy the rest of the day at leisure to relax and prepare for your exciting journey.
Day 2: Exploring the Pyramids of Giza and Egyptian Museum
After breakfast, meet your Egyptologist guide who will accompany you throughout the day.
Begin your tour with a visit to the Pyramids of Giza, one of the Seven Wonders of the Ancient World. Marvel at the Great Pyramid of Khufu, the Pyramid of Khafre, and the Pyramid of Menkaure. Learn about the fascinating construction techniques and historical significance of these monumental structures.
Continue to the enigmatic Sphinx, a mystical creature guarding the pyramids.
Enjoy a lunch break at a local restaurant.
In the afternoon, visit the Egyptian Museum, home to an extensive collection of artifacts, including the iconic treasures of Tutankhamun. Explore the museum's highlights, including the golden mask and other ancient relics.
Return to your hotel and spend the evening at leisure.
Day 3: Luxor and Nile Cruise Embarkation
After breakfast, transfer to Cairo Airport for a domestic flight to Luxor.
Upon arrival, meet your guide and embark on a journey to the West Bank of Luxor.
Explore the Valley of the Kings, where you can enter some of the elaborately decorated tombs of pharaohs.
Visit the Temple of Hatshepsut, a magnificent mortuary temple dedicated to the only female pharaoh.
Enjoy lunch at a local restaurant.
Transfer to your Nile cruise ship and embarkation.
After settling into your cabin, savor a delicious dinner onboard and enjoy the evening entertainment.
Day 4: Karnak Temple and Edfu
Start the day with a leisurely breakfast onboard.
Visit the awe-inspiring Karnak Temple, a vast complex of temples dedicated to the gods of ancient Egypt. Marvel at the grandeur of the Hypostyle Hall and the towering obelisks.
Return to the ship for lunch and sail to Edfu.
Explore the remarkably well-preserved Edfu Temple, dedicated to the falcon-headed god Horus.
Return to the ship and enjoy dinner and entertainment onboard.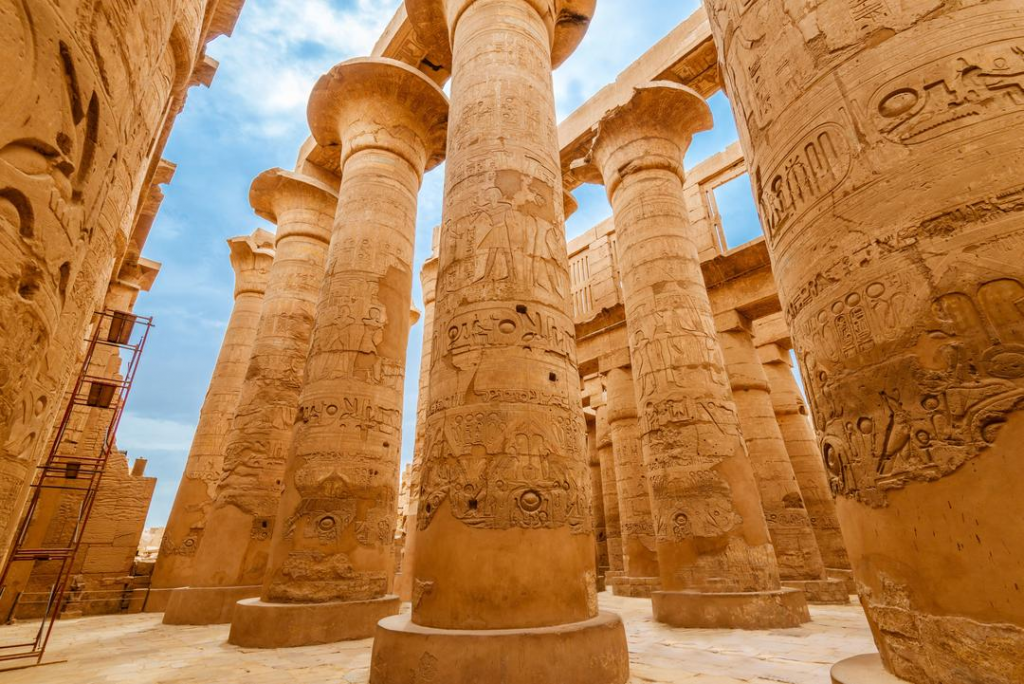 Day 5: Kom Ombo, Aswan, and Philae Temple
After breakfast, sail to Kom Ombo and visit the unique Kom Ombo Temple, dedicated to both the crocodile god Sobek and the falcon-headed god Horus.
Continue your journey to Aswan and have lunch onboard.
In Aswan, visit the Philae Temple, a beautiful island temple dedicated to the goddess Isis. Admire its stunning architecture and serene surroundings.
Optional: In the morning, embark on a fascinating excursion to the Abu Simbel Temples, known for their colossal statues of Ramses II (additional cost).
Return to the ship for dinner and overnight stay in Aswan.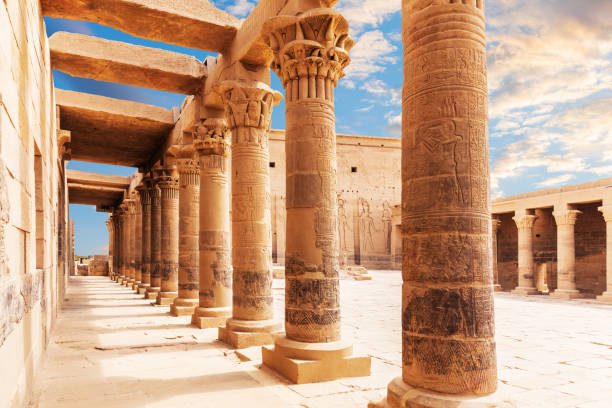 Day 6: Aswan Sightseeing and Nile Cruise Disembarkation
After breakfast, disembark from the Nile cruise ship.
Visit the High Dam, an engineering marvel that created Lake Nasser, and learn about its importance in Egypt's modern history.
Explore the Unfinished Obelisk, an ancient granite monument that provides insights into ancient Egyptian stone-carving techniques.
Enjoy a relaxing felucca boat ride on the Nile River, gliding past Aswan's picturesque landscapes.
Transfer to your hotel in Aswan and check-in.
Spend the evening at leisure to explore Aswan or simply relax.
Day 7: Departure from Aswan
After breakfast, check out from your hotel.
Depending on your departure time, you may have some free time to explore Aswan or engage in any last-minute activities.
Transfer to Aswan Airport for your departure flight, carrying unforgettable memories of your Cairo and Nile Cruise tour.
Inclusions:
Airport transfers upon arrival and departure.
Accommodation in well-selected hotels and a luxurious Nile cruise ship with daily breakfast.
Expert Egyptologist guide throughout the tour.
Sightseeing tours as per the itinerary, including entrance fees.
Domestic flights between Cairo and Luxor.
Transportation in air-conditioned vehicles.
Luxurious Nile cruise experience with full board (breakfast, lunch, and dinner).
Select onboard entertainment and cultural performances.
Exclusions:
International flights to and from Egypt.
Entry visa to Egypt.
Optional tours and activities.
Meals not mentioned in the itinerary.
Personal expenses and gratuities.
Travel insurance.
Pricing Information:
Accommodation Plan (A) 5 stars:
Cairo:Le Méridien – Steigenberger Pyramids- Ramses Hilton- Helnan – Barcelo Pyramids- Pyramisa
Luxor: Steigenberger Nile.
Nile cruises: MS Emilio, MS Radamis, MS Princess, MS Sara
| | 3 Stars | 4 Stars | 5 Stars |
| --- | --- | --- | --- |
| Price per person in DBL or TRPL Room | 960 $ | 990 $ | 1120 $ |
| Solo traveler | 1565 $ | 1610 $ | 1650 $ |
| Christmas & Easter – DBL or TRPL Room | 1090 $ | 1120 $ | 1240 $ |
| Christmas & Easter – Solo Traveler | 1625 $ | 1825 $ | 1865 $ |
Accommodation Plan (B) Luxury:
Cairo: Kempinski – Fairmont Cairo – Hilton Curnrad -Marriott Sheraton- Hilton Golf pyramids
Luxor: Hilton – Sonesta St. George.
Nile Cruises: MS Amwaj Nile Cruise, MS Nile Premium, MS Bule shadow, MS Jaz Jubilee, Crown Emperor, Steigenberger.
| | All year round | Christmas and Easter |
| --- | --- | --- |
| Price per person in dbl room | 1550 $ | 2000 $ |
| Solo traveller | 2500 $ | 2900 $ |
Ultimate Luxury:
Cairo: Four Seasons -Marriott Mena House – Kempinski Nile Deluxe – Fairmont Nile Premium – Hyatt Regency
Luxor: Sofitel Winter Palace.
Nile cruises: Sanctuary Sun Boat – Oberoi Cruises – Movenpick Royal Cruises – Sonesta Cruises – Le Fayan – Ms Farah -MS Acamar
| | All year round | Christmas and Easter |
| --- | --- | --- |
| Price per person in dbl room | 2750 $ | 3200 $ |
| Solo traveller | 4300 $ | 4800 $ |
Tips and Advice for Travelers:
Pack comfortable shoes and clothing suitable for warm weather and sun protection.
Carry a hat, sunscreen, and a reusable water bottle for outdoor excursions.
Respect local customs and traditions, particularly when visiting religious sites.
Stay hydrated by drinking plenty of water throughout the day.
Follow the guidance of your Egyptologist guide for a richer cultural experience.
Notify us in advance if you have any specific dietary requirements.
Trip Notes:
The tour itinerary may be subject to change due to local conditions or unforeseen circumstances.
The order of the sightseeing attractions may vary to optimize the experience.
Optional tours, such as the Abu Simbel Temples excursion, are available at an additional cost.
The Nile cruise ship may vary based on availability and similar standards will be provided.
Single travelers may incur a single supplement fee for accommodation.
It is advisable to purchase travel insurance to protect against unforeseen circumstances.
FAQs :
How can I book this tour? Booking this tour is easy! Visit our website, select your desired tour date, and click the "Book Now" button. Follow the instructions to complete the booking process and receive instant confirmation.
Can I customize the tour? Yes, we offer customizations to suit your preferences. Contact our customer service team, and they will assist you in tailoring the tour to your needs, including changes to the pickup time.
Are the entrance fees and meals included in the tour price? Yes, all entrance fees to the mentioned attractions and select meals as specified in the itinerary are included in the tour price.
Do I need a visa to enter Egypt? Yes, most travelers require a visa to enter Egypt. Please check with the nearest Egyptian embassy or consulate in your country for visa requirements.
Is travel insurance included? Travel insurance is not included in the tour price. We strongly recommend obtaining travel insurance to protect yourself against any unforeseen circumstances.